Commercial Removalist – Comprehensive Commercial Removals Services
Relocating your business can be a stressful and cumbersome process. With so many moving parts, it's crucial to choose an experienced and reliable commercial removalist that understands your unique needs and requirements. BRS (Business Relocation Services) has continually provided exceptional service over the years to various clients and industries. We have successfully moved hospitals, libraries, hotels, and warehouses while ensuring that delicate and sensitive equipment, files, and assets remain safe and secure throughout the entire process. Our comprehensive services are tailored to your specific needs, ensuring a seamless relocation experience.
Moving Hospitals & Other Institutions
Often, we are entrusted with moving hospitals where the safe relocation of delicate and sensitive computer equipment is required. Our capabilities also extend to offering specialist sequential packing for library services and secure moving crates for packing medical files. If need be, we provide offsite storage and asset management solutions as well.
Moving Hotels & Warehouses
Hotel relocations require moving furniture and fixtures in an organised manner. When it comes to warehouse relocations, proper planning, organisation, and precise execution are key. With extensive experience in handling a variety of commercial moves, we offer strategic planning and comprehensive relocation services to ensure a smooth transition.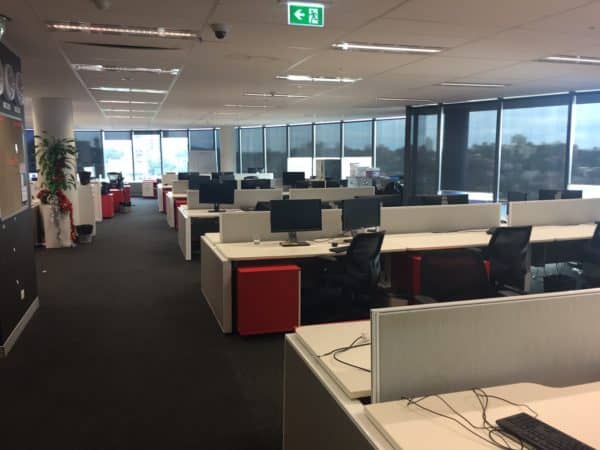 Get to Know BRS – Your Commercial Removalists in Syndey
When considering commercial removalists in Sydney, you may come across services offering notably cheap rates. However, prudent decision-making involves considering more than just the costs. Movers with inadequate experience or skill can mishandle your assets leading to damaging consequences that may cost you more in the long run.
To ensure a reliable service, it is crucial to get to know your commercial mover before hiring them. Here are six pertinent questions to ask:
Experience: How long have they been in business? A company's tenure can give you an idea about their professional capabilities and trustworthiness. Inquire about the packing materials used during the move to ensure the safety of your belongings.
Cost breakdown: What does the quote include? It is crucial to understand the terms and conditions and the breakdown of costs upfront to avoid unexpected surprises. Discuss any additional charges for expedited moves or other extras.
Special handling: How do they handle fragile and valuable items? Your mover should have a system for dealing with high-value, bulky, and delicate items convincingly to ensure their safety during the move.
Deposit requirement: Will they require a deposit? Some removal services require a deposit upfront. It is critical to be aware of such requirements in advance, particularly during the peak moving season.
Insurance coverage: Do they offer insurance? If you're planning to relocate valuable items, check with your mover about their insurance coverage. Most professional movers offer transit insurance, and it is important to understand the scope and limitations of such policies.
Storage solutions: Do they have a temporary storage facility? If you require vacating your current premises before your new office is ready, check if your mover offers short-term storage solutions.
It's easy to get swayed by commercial removalists in Sydney that offer dirt-cheap rates. But cost-saving here might cost you more at the end of the office relocation, and you don't want your items damaged due to inexperience and poor handling, right?
This is why it pays to get to know an office removalist before you decide to hire them. Making decisions based on price alone can seem like a good idea at first, but you could also be taking a lot more risks that might jeopardise your entire business. So how do you get to know a particular office mover? The first thing on your list should be to ask questions to gauge their experience and ability to tackle business removals.
Here are 6 questions to ask your commercial mover:
1. How long have they been in business?
Assessing the company's experience will give you a better understanding of their level of professionalism. In most cases, more experience means fewer risks. They should also be capable of discussing the various materials they'll use to safely transport your office items, such as bubble wrap, blankets, and packing tape.
2. What is included in the quote?
Transparent and upfront communication about all costs is crucial. Any additional expenses not covered in the quote, perhaps for rushed office relocations or special packing materials, should be clearly stated. Avoid any company that avoids disclosing all costs upfront and opt for those that embrace transparency to avoid unsavoury surprises post-relocation.
3. How do they move fragile and valuable items?
An efficient commercial removalist will have a unique system for handling expensive and bulky items such as pianos and heritage furniture. Therefore, inquiry about their special handling methods before moving day is key so that you can have peace of mind knowing that your valuable items will arrive at the new location undamaged.
4. Will they require a deposit?
Some business removal services may require a deposit before the move, despite offering a free quote. This varies across different companies, but some require a deposit to secure the booking, particularly during peak seasons. Ensure you inquire about deposits beforehand.
5. Do they offer insurance?
If you're relocating several valuable items, it's essential to ask about insurance options in case of any damage during transit. Many office movers offer transit insurance that can cover your property's full value. However, make sure to get complete details directly from the moving company.
6. Do they have a temporary storage facility?
Sometimes, you may need to vacate your current property before the new office is ready. In such cases, inquire whether the office moving company offers short-term storage solutions as an extra service.
Choose Business Relocation Services for Your Commercial Move
As one of the most reputable names in business removals, Business Relocation Services understands the unique safety and security needs of your relocation process. Our team follows strict procedures to guarantee that your items are transported safely and securely. Get the best commercial removalist services in Sydney today by calling 1300 92 94 40. Experience a stress-free, professional, and tailored office relocation that you can rely on.