Business Relocation Services Crate and Skate Hire – Rental
Business Relocation Services Crate and Skate Hire for Efficient Packing and Moving
With recent development in the delivery of relocations Business Relocation Services has adapted to the market changes. We have implemented the use of plastic security crate and skate with seals for the relocation of packed items when your moving office.
Business Relocation Services has combined the latest in environmental management in an effort to improve the office relocation process and assist our clients where possible reduce the carbon foot print of their relocation by using our crate and skate relocation solution.
Our eco crate and skate solution will provide an efficient highly secure modern approach to relocating commercial work areas.
Using a crate and skate will ensure that an extra element of protection is provided when packing items of a secure nature. The office moving crate and skate solution is fast and easy to pack or unpack, no set up is required, simply fill the crate and fold the lid over, no messy tape required. Our Security Crates are all sequentially numbered and can be sealed at both ends on the top with a numbered "Grip Lock" seal. The crate number and the seal number than can be recorded on a security crate register with the contents logged as well. As the crates are made of non pours material, non penetrable bio degradable material in the event of a spill of any chemicals or liquids, which are packed in the laboratories, will be easily contained.
Some Benefits of the eco Crate and Skate are;
No tape required
Sealable and numerically numbered
Tamper proof
Quick and easy to pack and unpack
Have their own Skate in stacks of 3
Minimise damage to buildings and contents
Sturdy, robust and non crushable
Smooth rounded corners
Dimensions (LWH) 610 x 490 x 310 mm
Stackable
Leak Proof for chemicals and liquids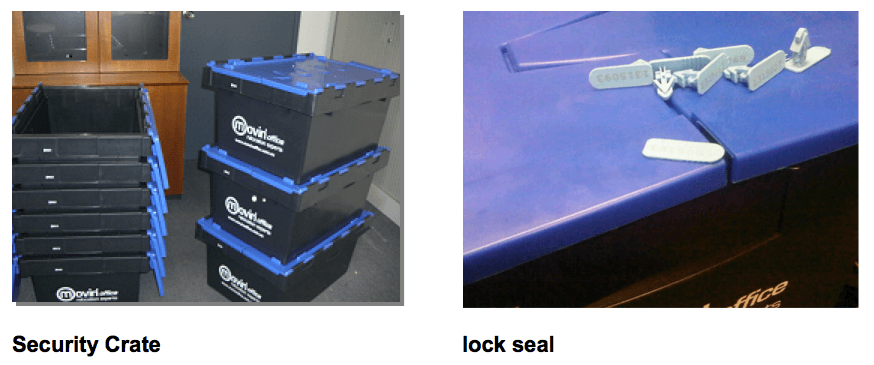 68L Security Crate
Features including:
Made in Australia to Australian standards and designed to withstand the conditions of the Australian climate.
Robust, environmentally friendly, washable, recyclable and easy to use.
Rest into each other for ease of storage.
Lockable and secure.
Standard crates come with a Black Base and a High Visibility Lid
2 Sets of carrying handles
Internal hanging rails
An attached lid
Internal hanging rails for files
Is easily lockable with a security seal if required
Nests when empty
Material:  Polypropylene Impact Co Polymer Ultra Violet Retardant & Biodegradable additive
Weight:  4KG
Dimensions:  630mm x 450mm x 315
Colours:  Black with Black lid or Black with Red lid
Make this office moving crate and skate suitable to a variety of purposes including fast quick packing and unpacking, archiving, security and transportation.
For more information on Crate and Skate Rental contact us or phone: 1300 92 94 40