Has It Become The Legacy Of Doing Business In The 22nd Century?
What is E-Waste? It is used to cover all electronic equipment and its parts. That has been discarded by their owners as waste without the intent of re-use.
Today this term can be expanded upon and with the use of more technology. The waste equipment can be repurposed or remarketed to new users.
Today's business couldn't be done without the use of electronics. It often leads to people not knowing what to do with it at end of life. Most just pile it up in the corner of the store room. Most times this equipment is only dealt with when your office is moving. Some just run out of space and need to tidy up to gain the extra workspace. The paperless office has lead us to an office full of technology which isn't as easy to recycle as paper. However, there are many ways which you and dispose of technology safely and securely. Who knows your old technology may even be worth a lot of money still. It's a little different to the process of paper recycling. And a lot of technology is repurposed and remarketed these days. The process is simple and very efficient. Place call to book a collection to start the process. From Secure E-Waste collections to certificates of destruction or sanitisation. To allow the equipment to be remarketed. Your old technology will no longer be gathering dust.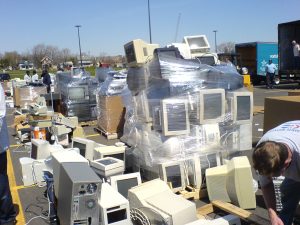 Services offered for old IT and technology disposal include:
Secure E-Waste collection.
Flexible and secure end of life collection and disposal.
Complete tracking and reporting of disposed assets.
Certified Data Sanitisation.
Certified data wipe through.
Physical shredding of hard drives.
Certificates of destruction.
Data Centre Relocation and Decommissioning.
Technology asset deployment refresh.
Data Centre relocation and decommissioning de-racking/re-racking.
IT and Technology Asset Remarketing.
Remarketing of surplus IT Equipment and assets.
Guaranteed return prior to removal.
E-Waste Recycling.
Highly focused on recycling and diversion from land fill.
Zero cost for e-waste recycling.
Reporting and certificates of recycling provided for your benefit.
Exported to only approved facilities for material recovery.
Logistics Solutions.
Efficient collection and disposal process.
Flexible collection timings and conformation of services.
Contact Business Relocation Services today. And establish a plan to make a better future by recycling your old technology today. Read an article e waste recycle erase or shred for more information.